Introducing the Westchester Fit team
Meet the fitness experts that are here to help you achieve your goals
Fill out the form below to get started
Take the first step towards getting the results that you want
START NOW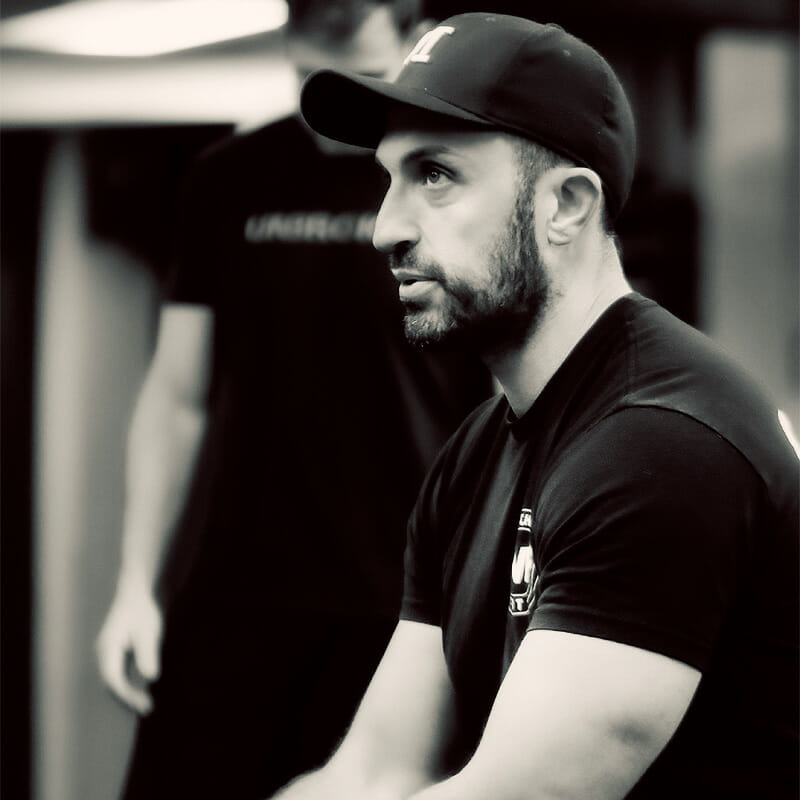 Our founder
Chris Guerrero
"I LOVE the process. I love helping people see the light when it comes to the most efficient way to get healthy, and giving them the proper tools to steer their own ship. It's the least I can do for all the fulfillment they give me." Chris is a passionate athlete and coach who is inspired by hard work and discipline driven by passion. He aims to help his athletes improve their lives with diet, exercise, and stress management. Chris leads by example and approaches all situations, positive and negative, as an opportunity for growth. Since discovering CrossFit in 2008, he has competed at the CrossFit Games Northeast Regionals in 2010, 2011, 2012, 2013, and 2014. Along with his athletic accomplishments, Chris also opened Westchester Fit (formerly CrossFit Westchester) within a year of starting his personal CrossFit journey, taking a huge risk and leaving behind a lucrative career in banking. Today, he considers it an honor and privilege to be able to work with the hundreds of athletes that have put their trust in him to help them on their path to becoming their best selves.
CERTIFICATIONS: CrossFit Level 1 CrossFit Level 2 Trainer CrossFit Mobility CrossFit Kids CrossFit Endurance Certified NASM Personal Trainer CrossFit Powerlifting Attitude Nation Level 1 OPT CCP Level 1 Coach Assessment OPT CCP Level 1 Coach Program Design OPT CCP Level 1 Coach Business Systems OPT CCP Level 1 Coach Lifestyle Coaching OPT CCP Level 1 Coach Nutrition Bachelor of Arts in Kinesiology University of Michigan 1st Male CrossFit Ambassador – Lululemon Greenwich
Head Coach
"I love watching the progress. I love seeing people walk in the door, some unsure of what they got themselves into, and watching them surprise themselves day in and day out… If you put in the work, you reap the benefits. It's awesome to watch." Sandra started with CrossFit Westchester in 2010 as an athlete, and over the years has put in the work and dedication it takes to go from member to coach and leader. She is a firm believer that pursuing what interests you, what you love, showing up and getting better is what shapes your life. For her, this applies to not only her athletes but also her personal fitness and career, as she left the corporate world to take the full-time role as head coach at CrossFit Westchester White Plains. Sandra's goal is to help people work towards meeting their full potential in and out of the gym.
CERTIFICATIONS: CrossFit Level 1 CrossFit Level 2 CrossFit Mobility
Coach Co Owner Westchester Fit
"All the really exciting things in life require more courage than we currently have, a deep breath and a GIANT leap." Mike is an accomplished athlete with a passion for working with kids and families. He enjoys getting to know the athletes, learning about their motivations and goals, and seeing them achieve more than they ever thought possible. Mike's own life was transformed with CrossFit and CrossFit Westchester. After being a top ranked NYS Varsity swimmer, he found himself in the corporate world, out of shape, underweight and unhealthy. Since 2010, he has turned his health and fitness around by adding 30 pounds of muscle, performing better than ever, and becoming a top ranked Worldwide Beauty Fitness & Fashion Male Fitness Model.
CERTIFICATIONS: CrossFit Level 1 CrossFit Kids CrossFit Football CrossFit Mobility Attitude Nation Level 1 Masters in Special Education/Child Development
Coach
"Over time CrossFit Westchester has become my second family. I could not imagine being part of a different community!" Steven has been active all throughout his life. As a former collegiate rower and fitness fanatic, he believed himself to be in good shape until his first CrossFit workout. He joined CrossFit Westchester after his first workout and has been a part of the community and growth of CFW ever since. Teaching is Steven's main profession and he enjoys being able to carry his knowledge, experience, and passion over to the fitness and coaching aspect of his life. And just like in school, he loves seeing people make consistent, measurable progress at CrossFit Westchester.
CERTIFICATIONS: CrossFit Level 1 CrossFit Level 2 CrossFit Mobility CrossFit Kids CrossFit Gymnastics CrossFit Aerobic Capacity Attitude Nation Weightlifting Rowing WOD Seminar
Coach
"The roadblock IS the journey and you are capable of so much more than you realize. I would love to help you tap into that unknown area within yourself to discover the greatness within." Tiana loves to work with people and is passionate about coaching athletes at CrossFit Westchester. Her love for all things related to helping people in fitness, health and wellness is what motivated her to walk away from a 6-figure salary income and promising career in 2013. For the past 22 years, Tiana has been in love with weight training and body composition change. She has transformed her own physique over the years to compete in the IFBB as a Professional Figure Athlete and passes on all that she has learned through many personal trials and tribulations to her clients. Her motto is "Never Give Up" and her tenacious attitude towards her own personal goals translates into her work with athletes of all levels. CrossFit Westchester is her 2nd home.
CERTIFICATIONS: CrossFit Level 1 CrossFit Kids NASSM CPT NASM PES Precision Nutrition Level 1 B.S. Mechanical Engineering, Binghamton University
Coach
Karen started her CrossFit journey in 2014 when her older sister encouraged her to join. After seeing her sister lose weight and get strong, it was a no brainer. Karen quickly became hooked and started going to classes five days per week.
Karen loves helping others become the best version of themselves, in and out of the gym. She is currently working on a nutrition certification and hopes to help gym members with healthy eating in the future. If Karen is not eating a delicious steak, trying to perfect her Olympic lifts, or pushing/pulling a sled, you can find her in her backyard playing with her three rescue pit bulls, Emma, Lola, and Murph.
Certifications:
-CrossFit Level 1
-CrossFit Level 2
-ATG
-M.A. Speech-Language Pathology
Start here
Book a free intro today so we can learn all about you, your goals and how we can help you reach them
Fill out the form below to get started
Take the first step towards getting the results that you want
Free Intro