Fill out the form below to get started
Take the first step towards getting the results that you want
Free Intro
CrossFit
Our traditional CrossFit workouts focus on strength, conditioning, and mobility. These workouts combine gymnastics, weightlifting, and metabolic conditioning in varying degrees and durations to create unparalleled results. From the basic air squat all the way to the very technical muscle up and Olympic lifts, we utilize them all and make it workable for anyone at any level of fitness. We build strength, endurance, agility, technical ability, and general awareness of body and mind by training movements that support functional ability and translate to real life. And of course, there are the aesthetic benefits, too.
Strength
Strength focuses the full hour on traditional strength training movements such as the Squat, Deadlift, Bench Press along with basic calisthenics and some olympic weightlifting. The primary focus is building a strong base and structure through varied strength protocols, adequate rest and recovery without the presence of typical CrossFit style conditioning. If you're looking to build muscle, and improve your overall strength this is the class for you.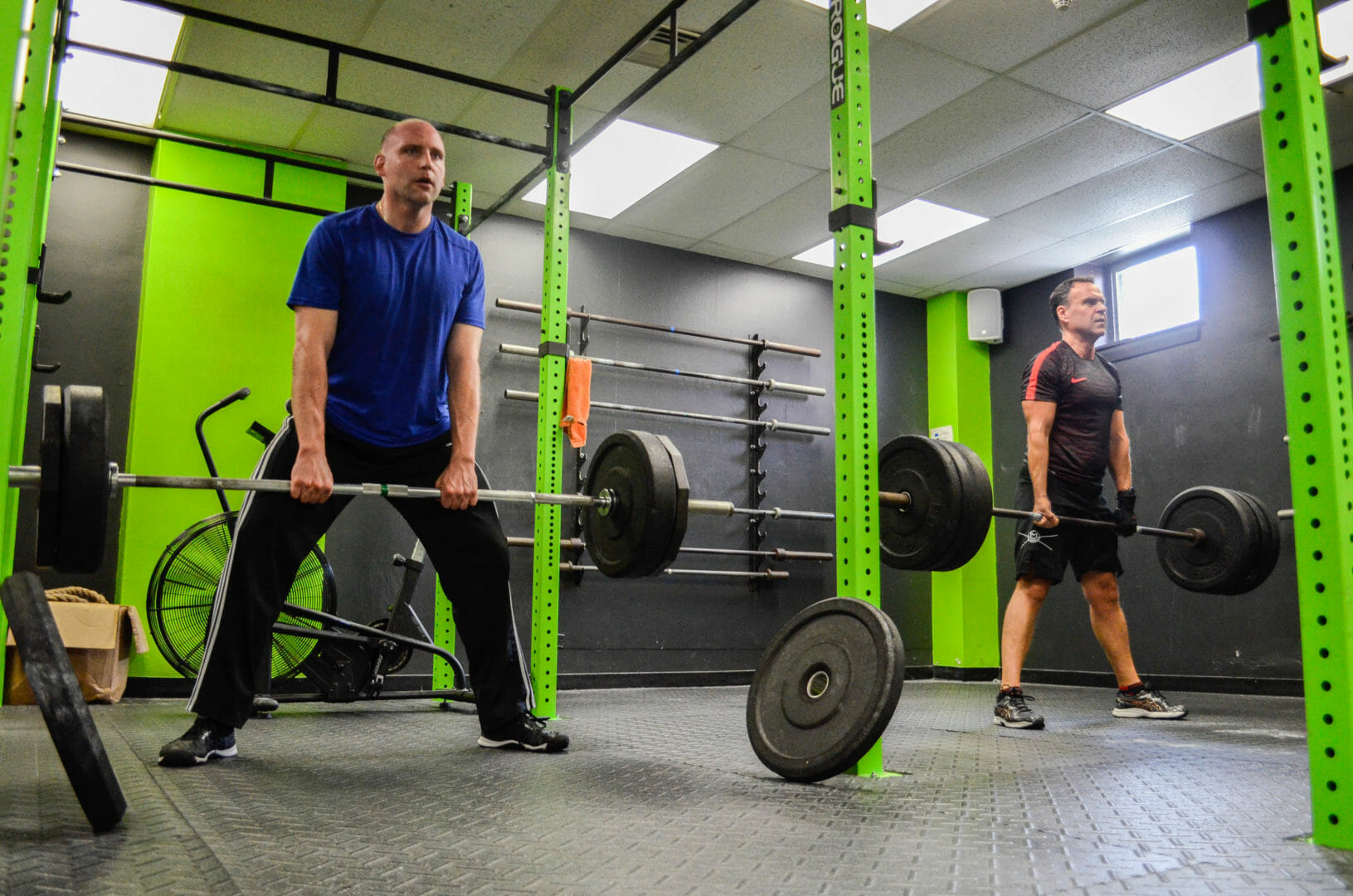 Endurance
Our Endurance class is designed to prepare all levels of athletes to improve their cardiovascular endurance. This class provides excellent running, rowing, and biking instruction and incorporates both singular and varied modalities to assist in the development of an increased work capacity over longer time frames. Expect to experience frequent and short intervals with scheduled rest periods, longer duration workouts, and time tests to assist in analyzing your progress. Build lean muscle mass, learn superior efficiency in movement cycle to become a fast, durable, long-lasting athlete.
BASE
Breathing. Aesthetics. Structure. Endurance. BASE incorporates StrongFit principles mixed in with functional bodybuilding. This class will help you develop a solid strength foundation through the use of dumbbells, kettlebells, sandbags, sleds and more. This class will involve different stations with changing stimuli to leave you primed and ready to handle anything that will get thrown at you!
Gymnastics
The Gymnastics Program is a skill based class balancing the gymnastic demands associated with CrossFit coupled with classic gymnastics training exercises. CrossFit Gymnastics will get you technically proficient in body weight movements as you gain spacial awareness and get stronger so that you can master the most challenging of gymnastics exercises. We'll work everything from the basic push-up to the most technical muscle-up. All skill levels.
Our pricing
We offer membership options starting at just $229 a month. Learn more about our pricing options by clicking the button.
Learn more about our membership options
Fill out the form below to get started
learn more